Residential Roofing, Commercial Roofing, and More in Michigan, Indiana, and Ohio
Ever since Fred Sherriff and B.G. Goslin partnered to form Sherriff Goslin Roofing back in 1910, we've been earning our reputation as one of the safest, most trusted roofing companies in the Midwest. We are family owned and operated, three generations deep, making every roofing project we complete and every company milestone an homage to the values, beliefs, and attitudes passed on through the leadership of the Sherriff and Goslin families.
Sherriff Goslin Roofing started as a commercial roofing company, but 100 years and 25 locations later, we've grown to become the Midwest's leading commercial, architectural, and residential roofing company with our own line of high quality shingles. Some say we're a unicorn in a field of horses. We just say we're a roofing company that does things right, enjoys what we do, and shows our customers the respect and appreciation they deserve.
Our History
Open Timeline
100 Years in Review
In 1906, the Battle Creek Roofing & Manufacturing Company was first formed, with an office in downtown Battle Creek. The company became a partnership in 1910 when Fred Sherriff purchased a half-interest in the firm from Mr. W.E. Polhemus. In 1913, Mr. Sherriff purchased Mr. Polhemus's remaining interest in the company, with B.G. "Bert" Goslin as his partner. By 1920 they changed the name to Sherriff Goslin Company.
In the early years, they focused on local commercial roofing. They also saw sales opportunities in manufacturing a full line of paints. "It was good paint," Mr. Goslin recalled, "but somehow we just couldn't make the big paint companies understand that we were competing with them. In fact, they didn't even realize we were in business!"
Tar and gravel was the type of roofing they were doing at the time, but as they were wrapping up the paint venture, Mr. Goslin introduced house roofing and the business thrived. The partners were soon adding branch offices, and eventually expanded throughout much of Michigan, Ohio, and Indiana.
Three generations later, members of the Sherriff and Goslin families are still involved in the business. The company has branch offices in 25 cities, features a roofing shingle manufactured exclusively for Sherriff Goslin, and supports a 10-year full-service guarantee.
Company chairman William Ticknor spoke about the importance of looking forward to the future. "There are always people who need roofs, and we'll go find them. In our files I found a quote for a 1933 job, signed by my grandfather, Fred Sherriff. He ends the letter by asking for the job, and that's what we will keep doing now. We can handle the challenge."
Saying it's uncommon for a business that primarily roofs houses to be around for 100 years, management sees this centennial year as a testament to the hard work and resilience of a long line of people. "It has everything to do with people," said company president Robert Sherriff.
Our Timeline
1906
Creation of the Battle Creek Roofing & Mfg. Company Ruberoid Company (established 1886) becomes our supplier
1910
Fred Sherriff becomes a partner; the company is incorporated in Michigan
1912
B.G. Goslin becomes company Vice President
1916
Mr. Sherriff becomes company President and Treasurer, Mr. Goslin becomes Secretary, M.L. Sherriff becomes Vice President.
1920
Name of the firm is changed to Sherriff Goslin Company
Business opens branch offices in Grand Rapids and Lansing. Patent work started on the Art-Loc®
1921
B.G. Goslin replaces M.L. Sherriff as Vice President
Open branch office in Kalamazoo
1922
Open branch office in Flint
1925
Open branch office in Muskegon
1926
Open branch office in Pontiac
1930
Open branch office in Ann Arbor
Art-Loc® trademark is first issued; introduced the shingle using the 16" wide original design
1931
Open branch office in Fort Wayne
1932
Open branch office in Indianapolis
1933
Open branch offices in South Bend and Cincinnati
1934
Open branch office in Richmond
1935
Open branch office in Marion
1938
Open branch office in Mansfield
1939
Open branch office in Benton Harbor
1940
Open branch office Lafayette
1946
Modified Art-Loc® shingle to a 15" wide design
1955
Current design of Art-Loc® shingle adjusted to provide slanted and slotted locks
1957
B.G. Goslin retires; H. Owen Goslin joins the company
1960
Fred Sherriff Sr. passes away and W.T. Walsh becomes company President
Jack Ticknor joins the Board of Directors; William Ticknor joins the company
1962
Art-Loc® shingle continues current design but with shortened locks
1968
H. Owen Goslin passes away
GAF Corporation begins producing Art-Loc® shingles
1969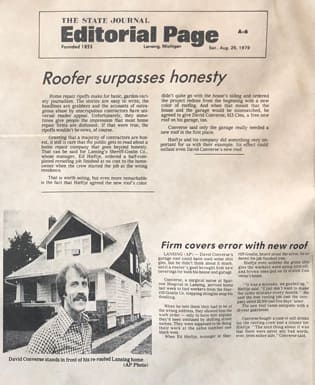 W.T. Walsh passes away
Fred Sherriff Jr. becomes company President
1972
B.G. Goslin passes away
1981
Open branch office in Muncie
1984
Globe Building Products starts manufacturing Art-Loc® shingles
1985
Robert Sherriff joins the company
1986
Owen Goslin joins the Board of Directors
1994
Fred Sherriff Jr. passes away
William Sherriff Ticknor becomes company Chairman
Robert Sherriff becomes company President
2001
Atlas becomes new Art-Loc® supplier, continuing current design with addition of Atlas identifier slit
2005
Release of 2nd Century Art-Loc®, current design with addition of modified identifier slit
2013
Sherriff Goslin Application Training Center opens in Jackson, MI. Nicknamed SGU (Sherriff Goslin University)
2014
Next generation of Art-Loc shingle featuring Scotchgard™ granules is developed
House Account Division is developed to provide Sherriff Goslin Roofing to large-scale, or multi-unit projects
2018

Metal Roofing offered
Purchase of All Season Windows in Portage, MI
2019
Retirement Announced – William S Ticknor and Robert C Sherriff
2020
Stephen D Ticknor President and Chairman of the Board (4th generation)

Sherriff Goslin Roofing began as a "one-horse" roofing company in 1906 in Battle Creek, MI. The company thrived after the introduction of its Art-Loc® interlocking shingles for residential applications.
Members of the Sherriff and Goslin Roofing families continue to run the company with the same core values that have guided them for the past century. Quality, safety, and integrity continue to be at the heart of Sherriff Goslin Roofing's business model. A history spanning multiple generations stands as a testament to the value Sherriff Goslin Roofing places on loyalty and trust between customers and their employees. Many branch managers and sales team members have been with Sherriff Goslin Roofing for more than 25 years.
Sherriff Goslin Roofing now operates 18 branches across three states: Michigan, Ohio, and Indiana. Art-Loc® interlocking shingles are still a big seller. The company offers free roof inspections and roofing services for commercial, residential, and agricultural buildings, as well as algae-resistant Pinnacle® Pristine, StormMaster® Slate, StormMaster® Shake, and Art-Loc® shingles, all featuring Scotchgard™ Protector.
For more than 100 years, premium products, professional service, and integrity in business have earned Sherriff Goslin Roofing a reputation for being the most respected and trusted roofing contractor in the Midwest.