Pinnacle

®

Impact High Performance Architectural Shingles
If you are looking for a dynamic looking shingle to help with curb appeal, you will love our Pinnacle® Impact roofing shingles featuring Scotchgard™ Protector. These architectural shingles, also known as dimensional shingles, are built to retain original roof shingle color by defending against black algae streaks. Pinnacle® Impact roofing shingles feature Scotchgard™ Protector which includes a Lifetime* Algae Resistance Limited Warranty that protects your new roof from unsightly staining and streaking caused by algae.
Lasting Beauty that Weathers the Storm
Prepared for anything Mother Nature throws your way.Pinnacle® Impact shingles provide a premium shield, protecting your home against hail and extreme weather. With innovative technologies built in, including 3M'" Scotchgard'" Protector, 130 mph wind resistance, and 3M'" Smog-Reducing Granules, your roof will outperform the rest while looking its absolute best.
Featuring the highest rated Class 4 Impact Resistance. Pinnacle® Impact shingles are Class 4-rated (the highest impact-resistance rating for asphalt shingles),providing superior protection against hail and other severe weather. To receive a Class 4 impact rating, shingles are subjected to intensive testing by nationally recognized, independent laboratories. Tests include simulated hailstorms where shingles are repeatedly pummeled with the equivalent of the speed and terminal velocity of 2-inch hail stones, evaluating their quality and durability.
Picture your home with Pinnacle® Impact Shingles
Visit Our Home and Roof Design Studio
Learn More About Pinnacle® Impact Shingles
The Pinnacle Impact Color Palette
Note: For the most current color options available, please visit the Pinnacle® Impact page on the Atlas website.
Features & Benefits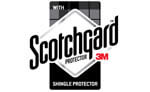 Scotchgard™ Protector
There is simply no greater algae resistance than Scotchgard™ Protector, and we incorporate regular independent third-party laboratory testing to validate even spread of copper granules, ensuring maximum algae resistance is built into every shingle.

Lifetime* Limited Warranty
Lasting protection against shingle manufacturing defects.

Up to 130 MPH Limited Wind Warranty
Provides superior resistance against wind and wind driven rain.
Technical Specifications
Note: For the most current technical specifications, please visit the Pinnacle® Impact page on the Atlas website.