Latest News About Residential and Commercial Roofing from Sherriff Goslin Roofing
Choose your view:
Preparing for Fall: The Advantages of a New Gutter System
Posted: in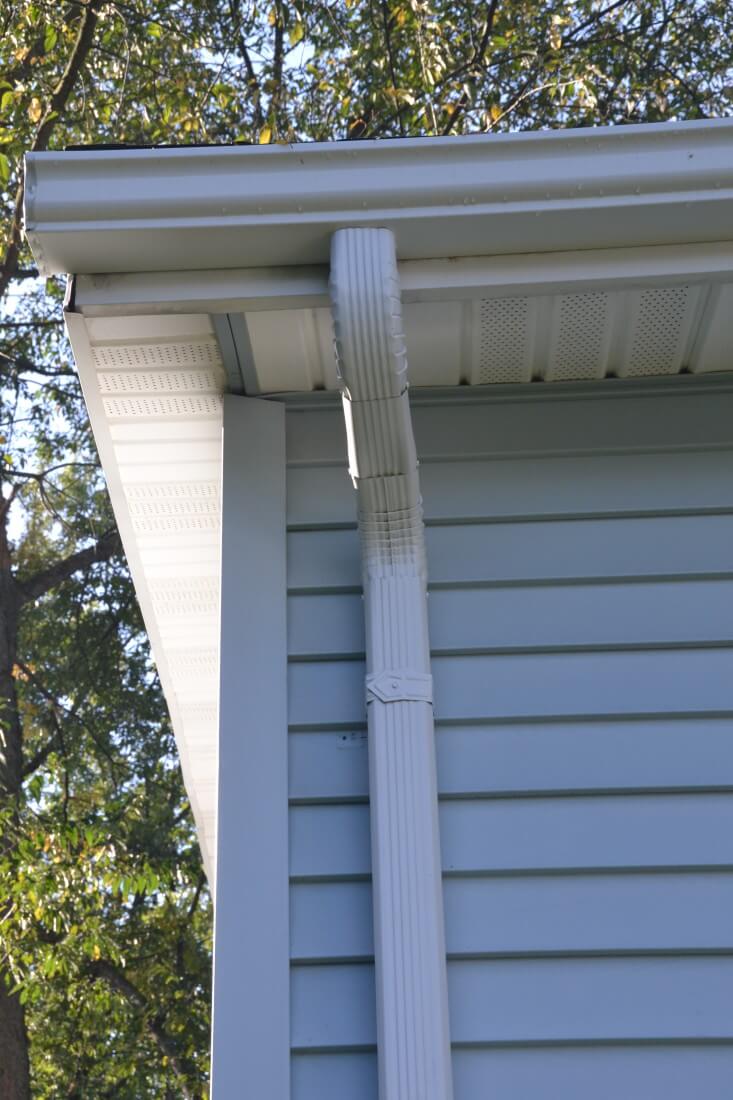 If you are thinking about home preparations for the fall and winter seasons, roof repairs will be one of the first items on your agenda. However, replacing outdated gutters with a new gutter system could be an equally important upgrade due to adverse weather arrivals.
Here at Sherriff Goslin, our roofing experts can complete fast and affordable gutter installations throughout Battle Creek and the surrounding areas. Get in touch to book your full consultation today.
Why Add a New Gutter System?
The U.S. gutter services industry is currently growing at a rate of 5.4% per year, which instantly highlights the fact that homeowners are opening their eyes to the importance of gutters within a roofing installation or upgrade project.
Whether completing a new roof installation or focusing solely on the gutters, upgrading your systems will yield the following rewards:
Prevent Water Damage
Faulty gutters can cause leaks, overspills, and other sources of water damage. Repairing damaged walls or rotting structures would cost a fortune compared to a minor outlay for new gutters.
Prevent Mold Growth
Allowing moisture from rainwater to penetrate the building won't only damage the structure. It can also lead to dampness, mold growth, and airborne diseases. Fixing this in summer will prevent problems down the line.
Stop Basement Flooding
Faulty gutters can cause damage to various parts of the property, but basements are at greater risk—ultimately causing foundation issues in the long run. New gutters help prevent pooling water near the home and leakages into the basement.
Stop Backyard Damage
Harsh winter weather can put your backyard drainage under a lot of strain. Having the right gutter systems in place can reduce some of the pressure while directing water away from your landscape and into the proper drainage systems.
Achieve Peace of Mind
One of the greatest rewards is that you know your home is no longer vulnerable to potential damage. This should instantly enhance your relationship with the property.
It should not be overlooked that old gutters can ruin the visual appearance of new roofing. So, if you're completing a roof installation project, new gutters are a great addition. Not least when you take the weather into account.
Why Choose Aluminum Gutters?
When considering a gutter system for your home roofing solutions, there are several options at your disposal including copper and PVC gutters. However, aluminum gutter systems are the perfect choice for residential and commercial buildings.
Here are just five reasons why Michigan homeowners and businesses can choose aluminum gutters with confidence:
Durability
Aluminum gutters can withstand the harsh weather conditions of the colder months, including harsh winds as well as rain and ice. A professional installation should enable the gutter system to last for 30-35 years with proper maintenance.
Value
Aluminum gutter systems are very affordable while they also offer easy installation attributes for a professional roofing installation expert. Therefore, the labor costs of your installation become cheaper too.
Low Maintenance
While other gutter materials can crack due to temperature changes, aluminum gutters offer a low maintenance solution. Your main task of maintenance will be cleaning out leaves to keep the downspout clear.
Single Length
An aluminum gutter can be made on-site, meaning they are perfectly matched to your building. By avoiding a multi-sectioned system, you will eradicate the threat of leaks or bad connections.
Furthermore, aluminum gutters offer an eye-catching design that can work alongside roof shingles and roof tiles to give the home an iconic appearance. Above all else, this will deliver the peace of mind that you deserve.
Update Your Gutter System with Sherriff Goslin
With over 100 years of experience and 19 locations to choose from, we're the Midwest's leading commercial, architectural, and residential roofing company. Our team of professionals will supply you with the best options to restore your gutters to a newer state, keeping you and your family safe and dry for years to come. Keep the best possible roof over your family's head with Sherriff Goslin Roofing. Find your local Sherriff Goslin Roofing branch here and request a quote today!