Latest News About Residential and Commercial Roofing from Sherriff Goslin Roofing
Choose your view:
The Most Common Barn Roof Issues
Posted: in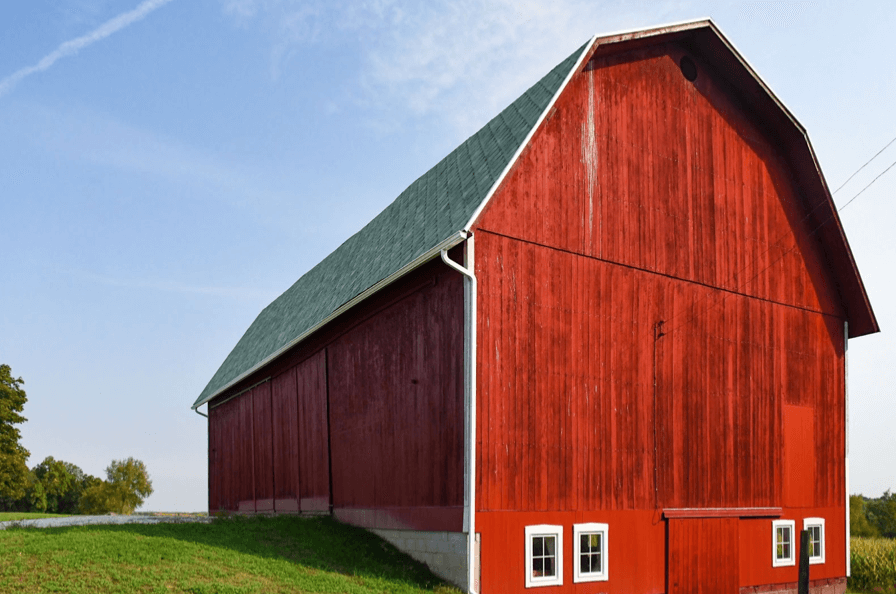 In 2020, in the US there were over 2 million farms—but the full number of agricultural buildings and barns around the country is much greater. Whether you have a small barn to store tools and machinery or you have a large building to support your agricultural business, there is a lot that needs to be done to keep your barn roof in tip-top shape.
While good quality barns can last for decades, it is important to understand that these buildings are often at the mercy of the elements and, without proper maintenance, they can start showing signs of wear and tear. In this guide by Sherriff Goslin Roofing, you'll find the most common barn roof issues to look out for and some unmissable barn roof maintenance tips.
Storm Damage
According to the Insurance Information Institute, the costliest tornado catastrophe in the country for 2021 significantly impacted the Midwest, including Ohio, Indiana, and Michigan. While commercial and residential buildings alike reported damages from these storms, barns are among the most exposed and least robust buildings.
If your area has recently experienced a storm or sustained straight-line winds (derechos), you should check for roof damage, including missing shingles or affected metal panels. This is especially important to prevent future water damage and decay.
Leaks, Water Damage, & Rotting Timber
Leaks and water damages are a serious enemy for any property—but they are particularly so for barns because these buildings are often exposed to the elements and include wooden elements.
Make sure to regularly check for water damage or the appearance of mold or mildew. Additionally, check any wooden elements such as timber poles to ensure that they are not rotting or damaged by leaks.
While these might seem minor problems at first, they can turn into significant structural damages that are both costly to fix and dangerous for the barn's structural soundness.
Fire Damage
In the four-year period from 2013 to 2017 alone, 326 barn fires occurred in the U.S. Compared to other buildings, barns are more prone to fires for several reasons, including:
The presence of highly flammable materials such as hay
Barns often house substances that can accelerate the expansion of a fire, such as gasoline
Motors and heaters stored in barns can easily spark a fire
The barn itself might be built with flammable materials, such as wood
It is essential to prevent barn fires by using fire-retardant materials and adopting best safety practices. At the same time, if your barn roof has reported fire or smoke damage, you should consider partnering with a roofing expert that can assess the structural soundness of the building.
Damaged Shingles or Slates
Because of wind, hail, fires, or just normal wear and tear, your barn roof's shingles, metal panels, or slates can become broken, loose, or missing. While this is an extremely common problem, especially if your barn is an older building, it is not one to be underestimated!
Missing and broken components of the roof facilitate water infiltration and make it easier for winds and storms to create additional damage. Regular maintenance, including replacing shingles and slates as soon as you notice damage, is the best strategy to increase the lifespan of the roof.
Partner With a Barn Roofing Expert
Taking care of your old barn can be extremely rewarding, especially as a quality outbuilding can significantly increase your property's value. At the same time, barns rarely benefit from the same high-quality build of houses or commercial properties. But, since they are just as exposed to the elements as your home or business, they require regular maintenance.
Partnering with a barn roofing expert at Sherriff Goslin Roofing can help you keep on top of maintenance, ensure that your barn roof is safe and structurally sound, and extend the lifespan of your property.
Sherriff Goslin Roofing: Schedule Your Barn Roof Inspection in Michigan, Indiana, and Ohio
With over 100 years of experience and 25 locations to choose from, we're the Midwest's leading commercial, architectural, and residential roofing company. Spring is the perfect time to call in a professional roofing inspector to provide top-quality maintenance and repairs. Protect your assets by finding your local Sherriff Goslin Roofing branch here and requesting a quote today!