Art-Loc

®

Impact Resistant Roofing Shingles with Scotchgard

™

Granules Art-Loc

®

Stormproof Shingles
Enjoy the distinct beauty of Art-Loc® diamond shaped shingles for your home without compromise. For the life of your roof, this algae resistant roofing shingle will retain its look and color while also protecting against the most extreme weather conditions. While our patented 2nd Century Art-Loc® shingles are great for new construction, their unique interlocking shingle design makes them ideal for re-roof applications. Installing Art-Loc® directly over your existing roof saves time, saves money and spares you the stress of a messy roof tear-off.
Art-Loc® shingles featuring Scotchgard™ Protector help your roof look cleaner and help maintain its look by resisting the black streaks on shingles caused by algae, enhancing your home's overall appeal. Art-Loc® stormproof and impact resistant shingles use an interlocking shingle design, which allows them to be sealed down and locked into place.
Picture your home with Art-Loc® Shingles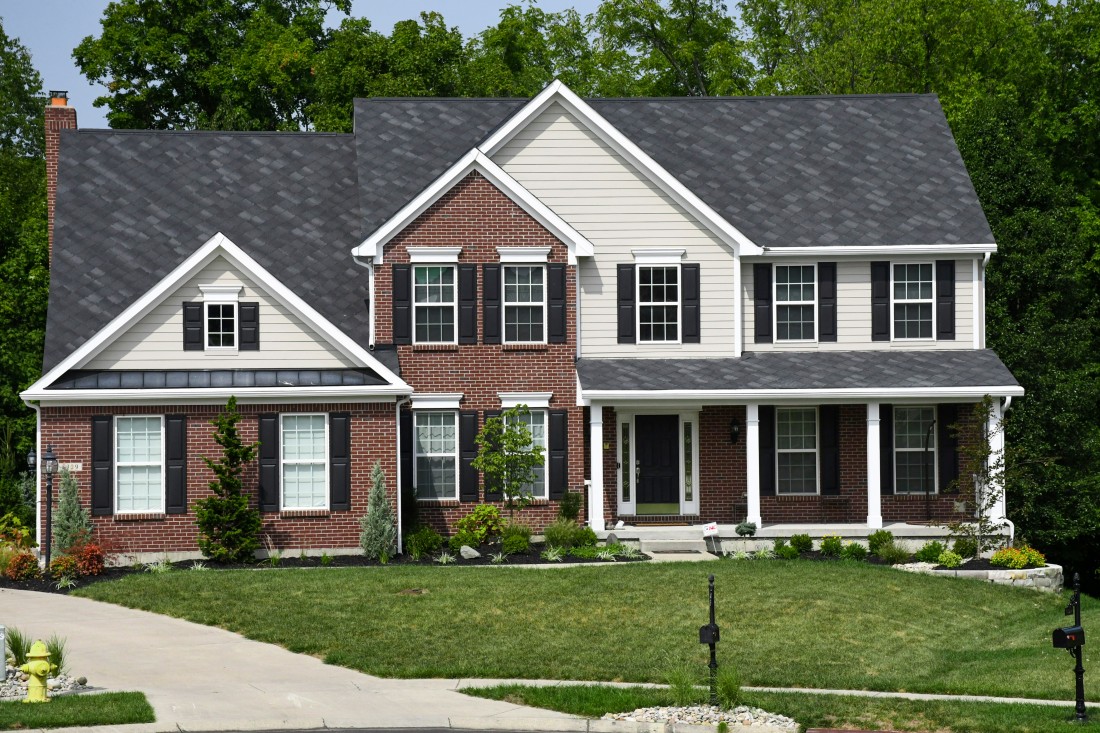 Class 4 Rated Art-Loc® Asphalt Shingle
Sherriff Goslin Roofing's patented Art-Loc® shingles guarantee resilience for your roof because of their unmatched stability. It's important to know that roofing shingles are ranked into four classes based on their strength and overall durability. Class 1 is the least durable and Class 4 is the most resistant to damage. With this rating, our customers have peace of mind knowing that Art-Loc® shingles are defined by Class 4 certification as they uphold the highest standards when it comes to protecting a home. Keep in mind; Class 4 shingles are not only important from a protection standpoint. Impact resistant shingles such as Art-Loc® also lend their value by preserving the integrity of your roof for a longer period of time.
Learn More About Art-Loc® Shingles
Available Colors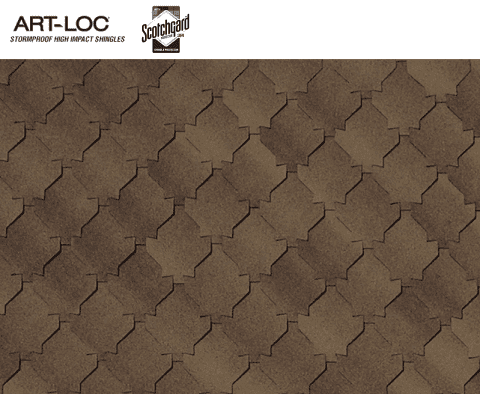 Amber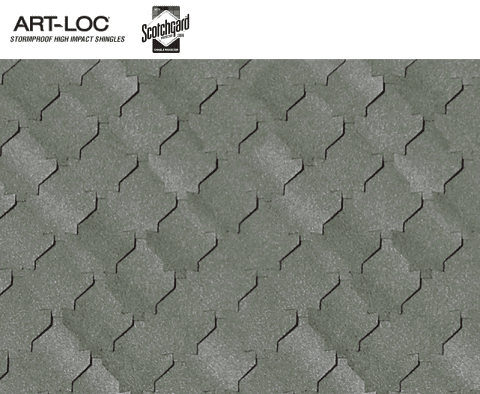 Berkshire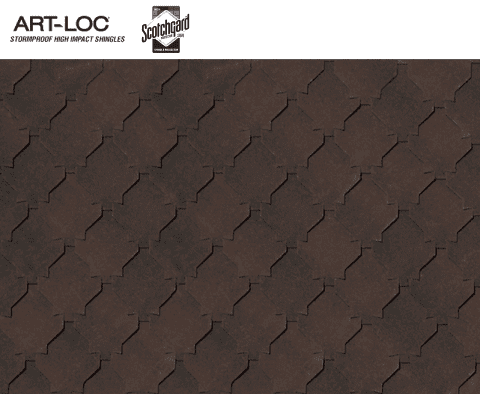 Char Blend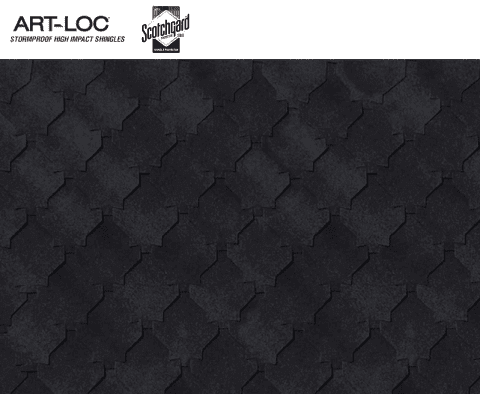 Charcoal Black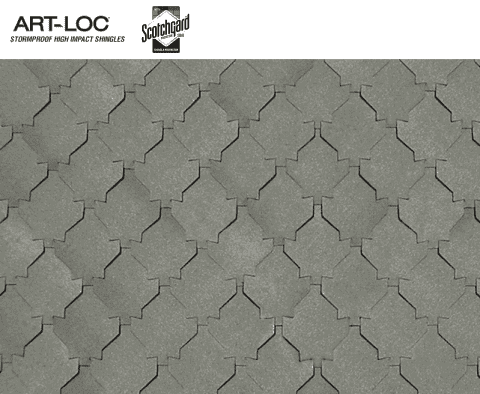 Crystal Gray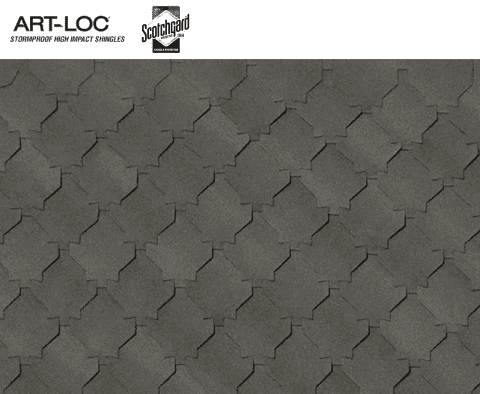 Earth Blend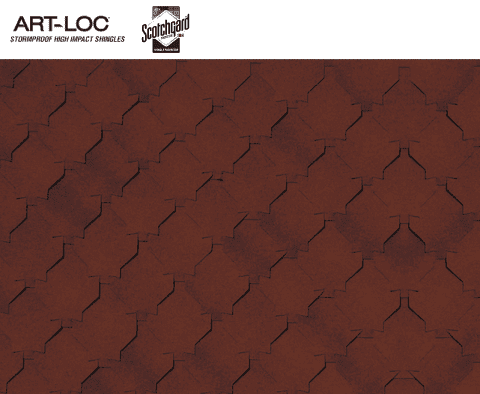 Garnet Red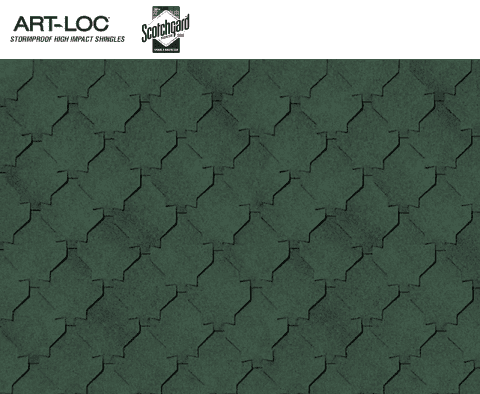 Hunter Green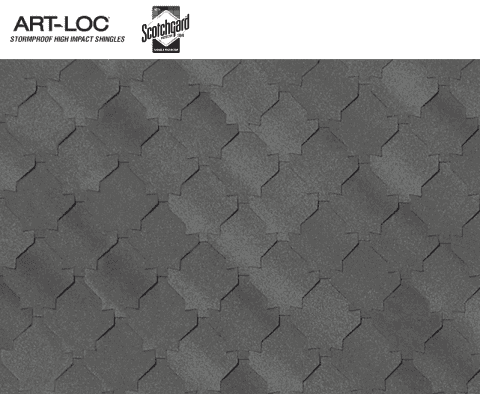 Pewter
Features & Benefits

Manufactured Using SBS Modified Polymer
During the manufacturing process, a modified polymer called SBS (styrene-butadiene-styrene) bonds to oils in the asphalt creating an elastic network that gives Art-Loc® shingles unprecedented flexibility, durability and water resistance over its standard fiberglass shingle counterparts.

Class 4 Impact Resistance
Highest impact rating available. Check your homeowner's insurance to see if you qualify for a discount.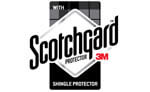 Scotchgard™ Protector
There is simply no greater algae resistance than Scotchgard™ Protector, and we incorporate regular independent third-party laboratory testing to validate even spread of copper granules, ensuring maximum algae resistance is built into every shingle.

Class A Fire Resistance
Art-Loc® meets the highest standards in fire resistance and requires passing an intermittent flame test, a flame spread test, and a burning brand test.

Art-Loc® 30-Year Algae Resistance Limited Warranty
30-Year Warranty applies to Art-Loc® System Advantage Roofing System.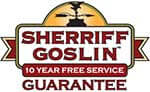 10 Year Free Service Guarantee
As if a manufacturer's lifetime limited warranty wasn't enough, we also include an exclusive 10-Year Free Service Guarantee against leaks. Don't wonder if your new roof is guaranteed – know it is with Sherriff Goslin Roofing.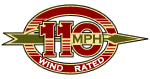 Up to 110 MPH Limited Wind Warranty
Provides superior resistance against wind and driven rain.

Up to 15 Year Premium Protection Limited Warranty
When we install an Art-Loc® System Advantage Roofing System, you get upgraded to an unprecedented Premium Protection Limited Warranty for up to 15 years.

Built With Interlocking Technology
Art-Loc® is the ONLY shingle manufactured with an interlocking design, which makes it ideal for most roofing applications.
Technical Specifications
Codes & Compliances
Sherriff Goslin Roofing strives to offer the most advanced shingle the industry has to offer. Art-Loc® meets or exceeds the UL and ASTM standards you're looking for in a shingle:
Class A Fire Resistance UL 790


*Under specified application procedures.

Wind Resistance UL 997
Impact Resistance Meets Class 4 UL 2218
Exceeds ASTM 3462 Tear Resistance