Latest News About Residential and Commercial Roofing from Sherriff Goslin Roofing
Choose your view:
Essential Tips to Protect Your Roof This Spring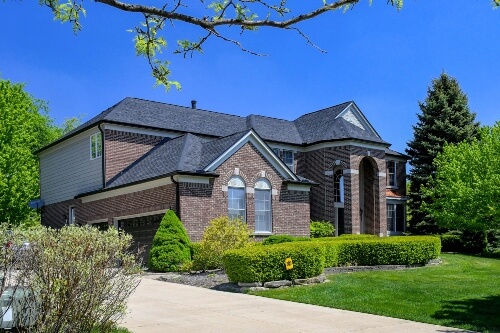 A high-quality roof can keep your home protected, warm, and insulated for longer than 15 years. But don't forget that the roof is always on the frontline against weather and natural elements. Without a proper roof maintenance schedule, it can start showing early signs of wear and tear.
Now that the worst of winter is behind us and spring is on our doorstep, there has never been a better time to inspect, repair, and get your roof ready for the warmer months. Here are some spring roof maintenance tips to protect your roof by the residential roofing experts at Sherriff Goslin Roofing.
Clean The Gutters
During the winter months, debris, ice, leaves, and twigs might have been deposited due to ice dams. However, as the heavy rainfalls of spring are just around the corner, it is essential to make sure that your gutters are clean, free of debris, and healthy.
Luckily, all you need to do to prevent clogged gutters, standing water, and water damage to your roof is sweep leaves away and clean the gutters regularly.
Keep Pests Out
Over the fall and winter months, pests like birds, mice, and raccoons sometimes end up nesting on or inside your roof. As the spring months come and their activity increases, these pests can cause severe damage to your entire property. If they are burrowing on exposed areas of your roof, you might struggle to find an easy solution to the problem.
Pests thrive in homes with structural problems, and a sagging or broken roof makes your home almost 4 times as likely to host pests. Make sure to repair any issues with your roof before spring comes around!
Keep an Eye out For Water Damage
Water damage is one of the greatest enemies to the integrity and structural soundness of your roof. However, most water damage risks can be avoided through regular inspections and maintenance.
Specifically, you should assess your roof for water damage just after winter, to make sure that ice dams haven't caused water to seep through the fascia (the flat material covering the ends of rafters) or torn gutters. If you notice peeling paint or water damage, make sure to get in touch with a roof specialist immediately.
Carry Out a Visual Inspection
As the winter storms and heavy snowfalls trail off, you should carry out a visual inspection of your roof. In most cases, this will be enough to understand if you require the help of roofing professionals. Two important components of the roof that require regular inspections are:
Shingles: These should be flat, not damaged or lifted. During your visual inspection, make sure to check for missing shingles and secure any loose components.
Flashings: The pieces of metal that connect your roof to skylights, chimneys, and edges are called flashings. Before spring comes, make sure they are properly sealed to avoid water damage and poor home insulation.
Invest in a Professional Roof Inspection
While a visual inspection can tell you a lot about what your roof needs and what you should be repairing, you should also schedule a professional roof inspection with the residential roofing experts at Sherriff Goslin Roofing. Our experts know exactly what they're looking for—we have the tools and knowledge to discover problems that may be difficult or dangerous to inspect on your own.
Your roof represents a significant investment and an essential component of your house. A professional inspection can help you extend its lifespan, optimize the area around it, and keep it in the best shape for months to come.
Sherriff Goslin Roofing: Schedule Your Spring Roof Inspection in Michigan, Indiana, and Ohio
With over 100 years of experience and 25 locations to choose from, we're the Midwest's leading commercial, architectural, and residential roofing company. Spring is the perfect time to call in a professional roofing inspector to provide top-quality maintenance and repairs. Keep the best possible roof over your family's head with Sherriff Goslin Roofing.