Latest News About Residential and Commercial Roofing from Sherriff Goslin Roofing
Choose your view:
How Summer Heat Can Affect Your Roof
Posted: in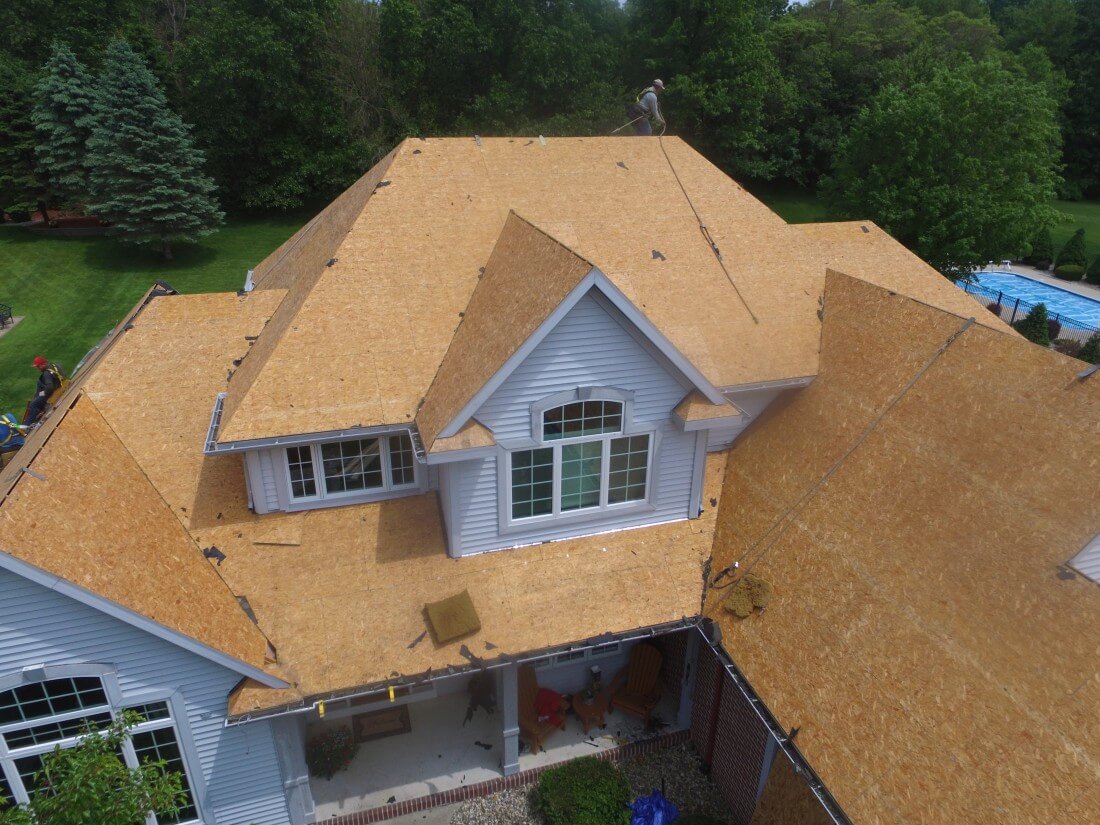 Summer has arrived in the Midwest—the sun is shining, warm weather is beaming, and outdoor activities are in full swing. As summer progresses, homeowners don't often prioritize roof maintenance. Though we aren't seeing heavy snowfall and fallen leaves, roofs still require upkeep during the summer season to remain stable for years.
Changes in temperature have a drastic effect on your roof's structural integrity. The professionals at Sherriff Goslin are dedicated to keeping homeowners informed of these changes in order to avoid expensive and timely roof replacements and repairs. Let's take a closer look at how the summer temperatures can impact your roof.
Hot Temperatures & Your Roof
When summer arrives, the sun is our best friend—especially because Mother Nature doesn't grant us many days of warm weather in the Midwest. But there are a variety of ways your roof can be impacted by hot weather. From UV exposure and humidity to thermal shock, the heat can do some serious damage to your home.
UV Rays
The ultraviolet rays (UV) from the sun are one of the most damaging aspects of summer that your roof faces. Because the roof doesn't have any shade protection from the UV rays, your roof can experience dry spots over time. UV light causes your roofing materials to decay much faster—shrinking and cracking shingles and weakening the overall structure. Additionally, on overly hot days, your roof can reach temperatures exceeding 150 degrees Fahrenheit, which can contribute to your roof's breakdown.
Just as we need to protect our skin from sunburn, we also need to protect our roof. At Sherriff Goslin, we can help protect your roof from direct sunlight with a special coating. This sealant keeps shingles from drying out as fast, though you will have to reapply this beneficial option over the years to remain effective. For more information about our roof protection, contact your local Sherriff Goslin today.
Thermal Shock
Thermal shock is another issue that can be caused by hot weather. This occurs when temperatures rise during the day and drop drastically at night. The increase and decrease in temperatures can cause the membranes of your roof to expand and contract rapidly. Thermal shock then creates tension and warping of your roof, weakening the structural integrity as a whole.
Humidity
We know humidity all too well. The sticky heat can cause an 85-degree day to feel like it's 95 outside. As much as we feel the symptoms of humidity—difficulty breathing, excessive sweating, and dehydration—our roof experiences its own symptoms. Humidity brings condensation, which can settle underneath your shingles and create a whole myriad of issues. If there's enough condensation buildup, you could experience water damage and leaks, as well as mold and mildew growth (both inside and outside of your home).
Stay Proactive This Summer
As much as we would love to have control over Mother Nature and the elements she throws our way, it's unfortunately not a possibility for homeowners. Instead, you can take precautionary measures to keep your home and roof intact, protected, and long-lasting.
Some sun-protection tips include the following:
Install light-colored roofing materials:

Lighter-colored roofs reflect the sun more easily than darker colors, leading to a cooler roof throughout the summer.

Increase attic ventilation:

Keep the heat from building up inside your attic by ensuring proper ventilation. This can help fight against increased A/C bills and condensation buildup.

Schedule regular inspections:

By contacting a roofing contractor to inspect your roof every few months, you'll remain informed about potential risks and damage the hot weather has caused. Additionally, you'll be able to get ahead of the repairs before further issues arise.
Choose Sherriff Goslin For All Your Roofing Needs
At Sherriff Goslin, we provide an expert, high-quality solution designed to address all your roofing needs. We can help ensure that your roof is protected from changes in temperature and inform you of potential roof repairs you may need. Before the summer sun gets too hot this year, contact your local Sherriff Goslin contractor and schedule a free, zero-obligation inspection. Our trusted roofing professionals will provide you with full details about your roof damage and what you can expect if you put off roof repairs.
Contact Sherriff Goslin Today
As a family-owned and operated roofing company, Sherriff Goslin has been providing high-quality roofing services to Michigan, Indiana, and Ohio since 1906. We can fix everything from leaky roofs and damaged shingles to cracked gutters and so much more. Contact us today to request a quote and start restoring your roof to its former glory.
Find a local Sherriff Goslin branch near you.