Latest News About Residential and Commercial Roofing from Sherriff Goslin Roofing
Choose your view:
Roofing Materials: A Comprehensive Guide to Making the Right Choices
Posted: in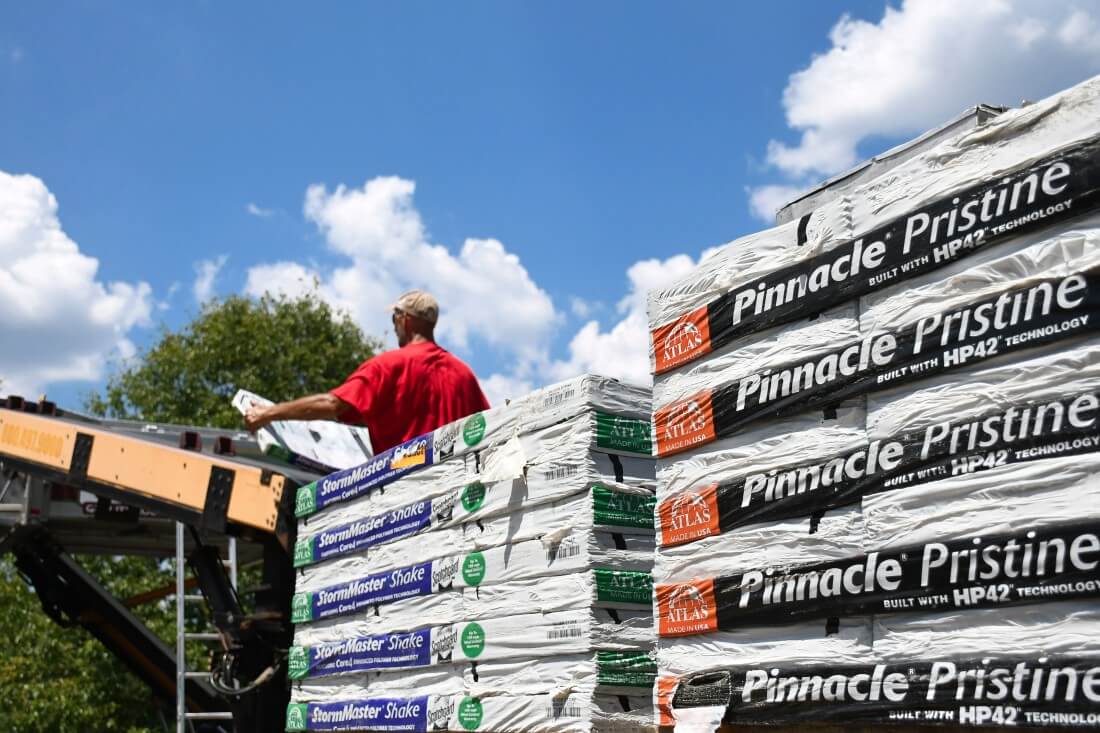 Your home is your happy place; it's where meals are shared, dreams are had, and memories are made. For most homeowners, the roof is an afterthought—new flooring, paint colors for the walls, and other potential DIY projects take precedence over the surface that provides shelter. The next time you plan to renovate your home, be sure to include the roof in those construction plans.
The roof contributes to your home's overall look and aesthetic, not just the functionality. With a variety of different roofing options on the market, determining which material is right for your home can be tough. Thankfully, the professionals at Sherriff Goslin are here to help. This blog discusses the most popular roofing materials you can implement into your next roof replacement for a longer-lasting, more modern appearance.
Roofing Materials to Choose From
Living in the Midwest, having a roof that can withstand the tests of time (and Mother Nature) is important. Roofing shingles are ranked into four classes based on their strength and overall durability. Class 1 is the least durable, and Class 4 is the most resistant to damage. Depending on where you live and the weather you encounter, knowing where your roofing materials stand on this scale could be the difference between a roof replacement and a roof repair.
If you're curious about which material best suits your home based on classification, ask one of our experts during your free consultation.
Asphalt Shingles
If you've driven around the average American neighborhood, you've probably noticed a common theme—asphalt shingles. On average, this classic roofing material can last anywhere from 20 to 30 years. Of course, this lifespan is dependent upon how well you take care of your shingles and, unfortunately, Mother Nature's whims. As one of the least expensive roofing options available on the market, asphalt shingles are ideal for a quick and simple roof replacement.
Asphalt Singles Available at Sherriff Goslin
Sherriff Goslin proudly installs Atlas brand shingles featuring limited and lifetime warranties. When you trust our professional roofing experts to install your shingled roof replacement, you'll also benefit from our industry-leading 10-year FREE service guarantee. Choose from a variety of shapes, designs, and colors with our current available shingle brands, including:
Art-Loc: diamond-shaped shingles that are algae-resistant, stormproof, and Class 4 certified for preserving the integrity of your roof for a longer period of time.
StormMaster® Shake: high-wind and impact-resistant shingles to protect against extreme weather conditions.
Pinnacle® Pristine: architectural shingles featuring a laminated architectural shingle with distinct shadow lines that provide the added dimension (multi-layered shingle) of a wood shake appearance.
Our asphalt shingle replacements come with a Scotchgard™ Protector that will resist splitting, cracking, warping, and shrinking in hot and cold weather climates.
Metal Roofing
The Midwest is known for its extreme and unpredictable weather patterns. As we all know, one day, it could be 80 degrees and sunny; the next, it's sleeting and 32 degrees. If you're looking for an effective and efficient way to protect your home from high winds, heavy snowfall, and Mother Nature's tantrums, look no further than metal roofing.
Metal roofs are sustainable, lasting well over 50 years with minimal maintenance required. As a more reliable roofing material, metal is a more expensive roofing option than others. But there's no better investment to protect your home for the future. With asphalt shingles, you can expect to replace your roof within 20 years, with repairs throughout those years. In contrast, a metal roof will cost you more upfront, but you won't have to worry about repairs or replacements—it will likely never need to be replaced until new owners purchase the home.
The Benefits of a Metal Roof
In addition to being sustainable and cost-effective, metal roofs are exceptionally durable. If you're struggling with monitoring your HVAC costs and realize your A/C is working overdrive, a metal roof could help. Metal roofs provide excellent insulation for your home, which means you could see up to 40% energy savings throughout the year!
Other Roofing Materials
Found on higher-end homes (we're talking in the millions), ceramic tiles and cedar wood shingles line the roofs of the elite. While Sherriff Goslin doesn't perform a roof installation with these materials, we believe it's important to understand your options.
Ceramic tiles hold their value better than classic shingles do but require a longer installation process. Since they're made up of concrete or clay, tile shingles must be sealed to the roof itself, which can improve the durability and protection of your home. Because of their weight, tile shingles cannot be installed without having your support beams inspected, but once approved, the ceramic shingle roof could last you up to 40 years.
In contrast, cedar shingles are an expensive roofing material but protect against damaging winds and hail while providing an aesthetically pleasing appearance. Cedar roofing generally lasts 10 years longer than an asphalt roof and is resistant to rot and deters insects. Additionally, cedar shingles are energy-efficient.
Replace Your Roof Today with Sherriff Goslin
Sherriff Goslin is proud to offer quality roofing services for residential and commercial customers throughout the Midwest. While we know this process is usually stressful, we work diligently to make it as smooth and seamless as possible. If you're having trouble visualizing what color roofing shingles will complement your home, we offer a shingle color and style selector to help narrow down your choices! Simply upload a photo of your home and try on a new roof—it's that simple! Don't let choosing a new roof material be the cause of your next marital argument. Instead, make the decision with the professionals you trust at Sherriff Goslin.
---
Quality. Safety. Integrity
As the leader in residential and commercial roofing and exterior services for the past 100 years, Sherriff Goslin believes everyone deserves a high-quality roof. We have branch locations throughout Michigan, Indiana, and Ohio, so you can replace or repair your roof with us no matter where you live! Contact us today at (248) 332-5231 to get started on a free consultation and begin the roof replacement process.