Latest News About Residential and Commercial Roofing from Sherriff Goslin Roofing
Choose your view:
Selecting a Roof Color: Impact Your Property's Curb Appeal
Posted: in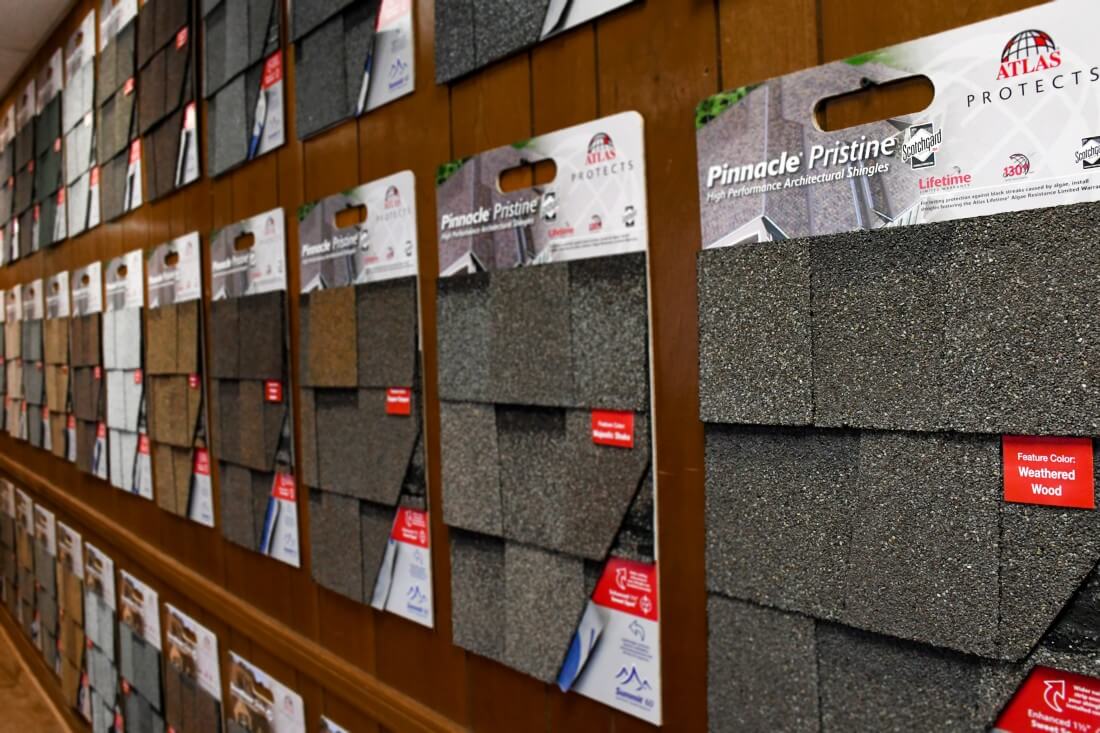 Your home's roof won't last forever. While it can be inconvenient to go through the roofing installation process, it does present an opportunity to get creative. When you're starting from a clean slate, you'll be able to make decisions that can enhance your property's curb appeal and accentuate your personality. We're talking about the color of your roof!
At Sherriff Goslin, we offer a variety of materials that come in numerous colors that will showcase your unique personality. Take a look at our guide on how to choose the proper color for your roof.
How to Choose a Roof Color
Selecting a color for your roof shingles can be a daunting prospect for many homeowners since your decision will impact the aesthetics of your home's exterior for perhaps two decades or more. With that in mind, we've put together some handy tips that'll ensure you choose the right color for your roofing project without giving yourself a headache in the process.
The four main key areas for consideration include:
The general color scheme of your home's exterior

The color of the surrounding roofs

HOA rules and guidelines

The energy impact of the color.
Siding, Trims, and Shutter Accent Colors
Don't think of your roof color in isolation. Think of how it'll work with the other colors present in your home's exterior. The color of your roof should combine well with your home's siding, trims, and shutter accent, along with any other materials that affect your home's color palette. You don't necessarily need to choose the same color, just one that complements the palette well. A contrasting color can create a strong visual impact, but it's best to avoid choosing a color that's overly bold (unless that's the style you're looking for).
Surrounding Roof Colors
If you have neighbors, then it's recommended to take inspiration from the colors they've used for their properties. This can help to create a cohesive look for the street and also prevent your home from sticking out like a sore thumb. You'll want your home to get attention for the right reasons, not because it doesn't fit with the general aesthetics of the street.
HOA Rules
If you belong to a Homeowners Association (HOA), then you'll need to check their guidelines before making your decision. The majority of HOAs have a pre-approved range of colors that homeowners must use for the color of their roofs. Failing to use one of these colors may result in hefty fines and a requirement to change the color, which would result in lost time and money. It's generally best to speak to your HOA about the color you intend to use before beginning the project.
Energy Saving Considerations
The color of your roof won't just impact your home's curb appeal, but may also impact the inner climate of your property. Shingles in lighter shades work best in hot climates since they reflect sunlight away from your property, which helps to keep your home cooler in the summer. Darker shingles absorb heat, making the property warmer. If you're trying to beat those chilly Midwest temperatures, then a darker shade will work best.
Sherriff Goslin is Here For Your Roof
Choosing a color for your roof should be a fun and exciting process for you and your family. At Sherriff Goslin, our wide variety of shingles come in multiple colors so you can achieve the look you've wanted. From ambers and greys to greens and reds, your Art-Loc, StormMaster Shake, Pinnacle Pristine, and other shingle brands will retain their look in even the most extreme weather conditions. If you're unsure about which color to choose for your roof, then get in touch with Sherriff Goslin, the leading roof repair and installation in Michigan, Indiana, and Ohio. We'll be happy to guide you through your options.
Request a Free Roof Inspection
Sherriff Goslin has branch locations throughout Michigan, Indiana, and Ohio. Each one offers the best in residential roofing, commercial roofing, farm, barn, church, and specialty roofs, emergency roof repair, storm damage roof repair, and other essential roofing services. With our free roof inspections, you can be on your way to a new roof (and perhaps a new roof color) in no time. Contact us today to get started.