Latest News About Residential and Commercial Roofing from Sherriff Goslin Roofing
Choose your view:
The Top 10 Roofing Questions You Should Ask Your Contractor
Posted: in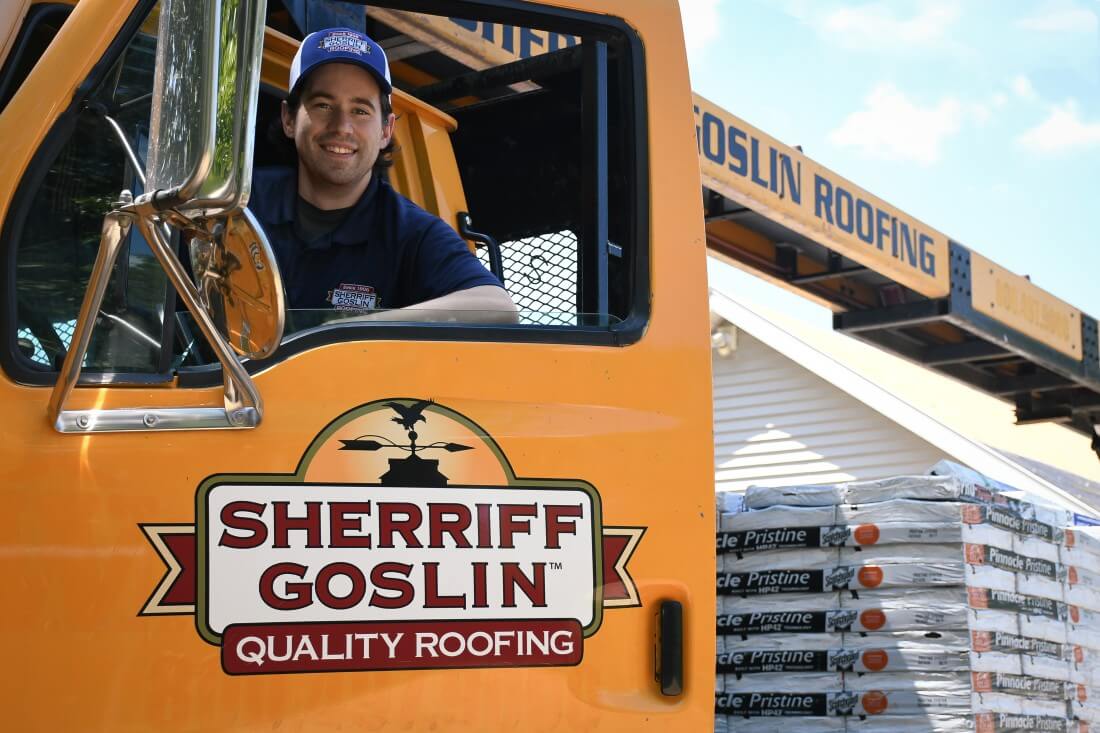 Have you noticed an issue with your roof as the winter months approach? If so, then you may want to consider arranging for a roof repair. A professional contractor such as Sherriff Goslin could quickly and efficiently provide new roofing installation recommendations, or repair alternatives.
Below, we'll discuss when to contact a roofing contractor and some of the key questions that you should ask prior to the job starting.
When Should You Contact Your Roofing Contractor?
If you notice significant damage to your roof, experience leaks or cracks, or are concerned with the age of the roof itself, it's time to call in the professionals. Where high winds, ice, rain, and snow are involved, your roof could quickly fall victim to the elements—which is why it's important to always be on guard and have Sherriff Goslin on speed dial.
10 Questions You Should Ask Your Roofing Contractor
Let's explore some of the key questions that you should ask your roofing contractor when you get in touch with them.
Are You Using Subcontractors?
Some roofing professionals will hire subcontractors to complete a roof repair. While this won't always lead to issues, you should remain cautious. Subcontractors don't work for the company directly, so the level of craftsmanship and customer service can vary. Additionally, if you're making an insurance claim, it's important to understand the small-print details of your insurance contract so you don't end up having to pay more money once the job is complete—or worse, not receiving all you're entitled to.
Are You Licensed & Insured?
You should always check to ensure that a roofing contractor is licensed before hiring them for a new roofing installation or a roof repair. Licensing provides evidence that they are qualified and experienced enough to complete the work. More importantly, hiring a licensed roofing contractor will protect you from any liability claims if something were to go wrong.
Do You Have Various Contact Options?
You should ask whether a roofing contractor will provide various contact points. This could include email, live chat through the website, or a direct phone number. Some companies will only provide an email and this can limit how easily you're able to get an update on your project.
Additionally, knowing exactly who the point of contact is for your roof will assist in any confusion when discussing things via phone—you'll be able to ask for this person directly and have a more in-depth conversation about the status, any issues, and possible completion dates.
Do You Provide a Quote Prior to the Job?
A quote or estimate will give you peace of mind when you hire a roofing professional to complete work on your home. Typically, a quote is provided prior to hiring, so you can shop around until you find a contractor that not only is able to get the job done properly, but within your price point. Without a quote, you could end up with an unexpectedly high bill or additional costs you weren't expecting.
When a contractor provides you with a quote up front, you're able to understand what exactly they charge for, what may or may not cost more should you choose to add it, and the overall quality of work.
Do You Have Testimonials?
There are a lot of roofing contractors on the market that don't provide customers with the option to leave reviews and testimonials, ultimately diminishing future business. These cowboy contractors complete a project and then disappear, leaving you with questions and concerns unanswered.
By researching testimonials, you'll be able to read what other customers have experienced and gain a better understanding of how trusted the company is throughout the area.
Do You Guarantee a Warranty?
One of the best things you can do for yourself is ask if a warranty comes with your new roof or repair. This is important whether they are replacing a few roof shingles or the entire roof. By implementing a warranty, you're guaranteed quality work that will last. If something were to go wrong a few days, weeks, or months post-hire, you can contact the company and ask them to come back out to fix the issue—free of charge.
When asking about warranties, be sure you receive knowledge of how long each warranty lasts and if there are any limitations in place.
Will You Cleanup After the Job is Complete?
A roof repair or roofing installation will always result in more mess than you might expect. Ask whether the contractor will take care of the cleanup and leave your home and yard in the condition they found it. At Sherriff Goslin, we always take extra precautions when it comes to our cleanup and guarantee we leave your home exactly the way it was.
What Payment Options are Available?
Finally, ask what payment options are accessible. Typically a financial plan for financing your roof involves long payments that spread the cost of a new roof or repair over multiple months. At Sherriff Goslin, we want to ensure each of our homeowners can afford to keep a safe roof over their families heads. For this reason, we offer a range of financing options to help ensure your roofing needs are met.
Why Choose Sherriff Goslin for Roofing
Sherriff Goslin has been operating in the roofing industry since 1910. During this time, our team has gained a strong reputation for being safe and trusted. We can complete a range of roofing projects from a simple repair of roof shingles to a full roof replacement. We always treat our customers with respect and strive to ensure they are 100% satisfied with our service. If you are interested in learning more, get in touch today.