Get Your Roof Damage Inspected by Metro Detroit's Leading Professional Roofing Company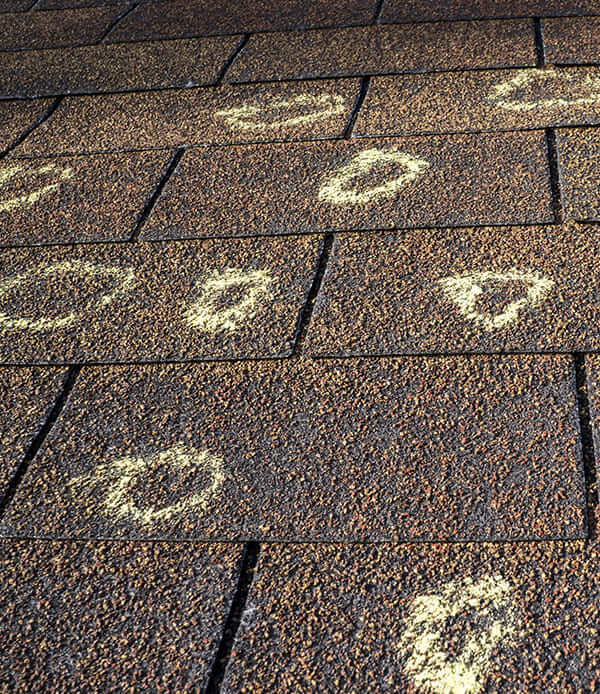 How to Spot Roof Damage After a Storm
Although Sherriff Goslin Roofing Metro Detroit only uses shingles rated for high winds and minor impacts, if your roof is old or installed by another contractor, Mother Nature sometimes wins. If you spot torn or lost shingles due to snow, ice, sleet, hail, branches, or other storm-related objects, call Sherriff Goslin Roofing Metro Detroit right away- especially if the bare roof or tar paper is exposed. Even a small section of missing shingles can leave your home vulnerable to water damage and critters if left unrepaired. Why take chances with your roof, when you can work with Midwest's most reputable roofing company.
We Fix Roof Damage from Severe Weather Including:
Ice storm and heavy snow
Hail and sleet
High winds and flying debris
Trees and heavy branches
Lightning strikes
Let us put your mind at ease:
Request Your FREE ROOF INSPECTION Now
Leaky Roof After a Hail Storm? You Probably Have Shingle Damage.
Drips from the ceiling and water stains are the number one telltale signs of a roof leak, but sometimes the damage is not very obvious. The severity of roof damage from hail depends on the size of the hail and the wind speed. If you see hail damage on your gutters, siding, or deck, there's a good chance your roof has hail damage too. Even if your roof isn't leaking now, the erosion damage hail causes can reduce the lifespan of your roof. It's best to call an emergency roofing contractor like Sherriff Goslin Roofing Metro Detroit for a free roofing inspection to ensure your home's roof is still intact and protecting your home.
Does Your Roof Suffer From:
Missing, torn, or cracked shingles
Curled shingles
Build-up in gutters or downspouts
Torn or buckled flashing
Don't put off your roof repair:
Call (800) 967-7663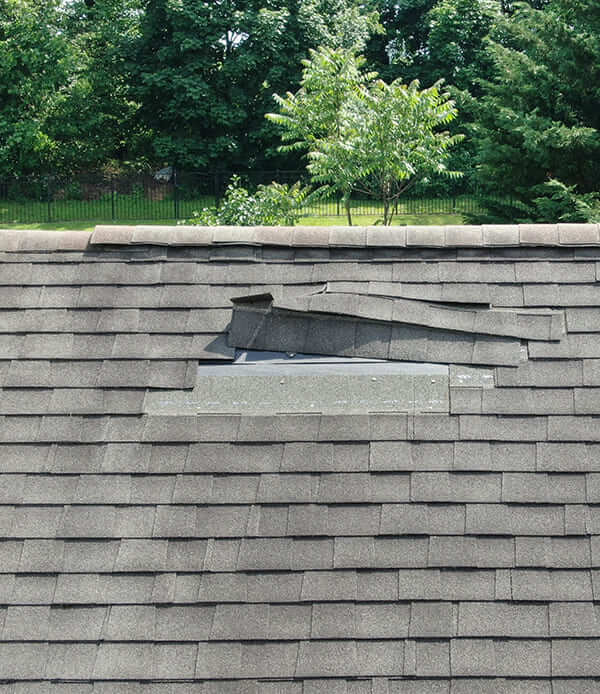 Does Insurance Cover Storm Damage?
If your roof suffered severe damage after a big storm, contact your insurance company, then call Sherriff Goslin Roofing Metro Detroit. The type of roof damage covered by homeowners insurance will depend on your roof's age, and your specific homeowner's insurance policy. Sometimes they cover partial repairs, and sometimes they cover a complete storm damage roof replacement. Our experienced roofing professionals can provide a FREE roof inspection and provide you with a complete estimate of what it will take to repair or replace your roof. That's just one way Sherriff Goslin Roofing Metro Detroit helps you get back to life after the unexpected.
Types of Roof Damage Typically Covered by Insurance
Storms
Fires
Fallen trees
Burglary
Vandalism
Accident
Get storm damage roof repairs done right- the first time!
Request Your FREE ROOF INSPECTION Now