Commercial Roofs for New Construction Applications
For over 100 years, Sherriff Goslin Roofing has been installing commercial roofs for new construction applications. Our experience in this area helps us save contractors and developers both time and money. First, we ensure that you receive a fast, accurate bid on your project, whether it is big or small. Second, we guarantee a quality installation, no matter how simple or complex the job.
As a result of the safety training that all Sherriff Goslin Roofing employees undergo, we have maintained an unsurpassed safety record. Fully-covered by up-to-date insurance, our crews utilize safety equipment that meets – or exceeds – OSHA regulation. Because of this, our customers never have to worry about liability and can rest easy knowing that their commercial roofs are being installed in a safe, controlled manner.
A professional contractor will always have and provide:
Permanent place of business: address, telephone number, tax ID number, and so forth
Financial liability: A track record of successfully completed jobs
Proof of insurance: Ask for a certificate mailed to you directly from the insurance company
Bonded and licensed: Check the requirements of your state
References: Check with previous customers about complete satisfaction of workmanship
Warranties: Check labor and material warranties to ensure the company stands behind their work
List of completed projects: Ask for project name, owner, and date of completion
Commercial Reroofing and Roof Replacement
If you suspect that your commercial roof may be at the end of its lifecycle, you can count on Sherriff Goslin Roofing to provide you with insightful, honest advice about reroofing. Our goal is to earn your business for life, not sell you on a roof that you don't need. If we find that it is time for a roof replacement, however, you can be certain that we'll recommend the right commercial roofing system and installation method for your application.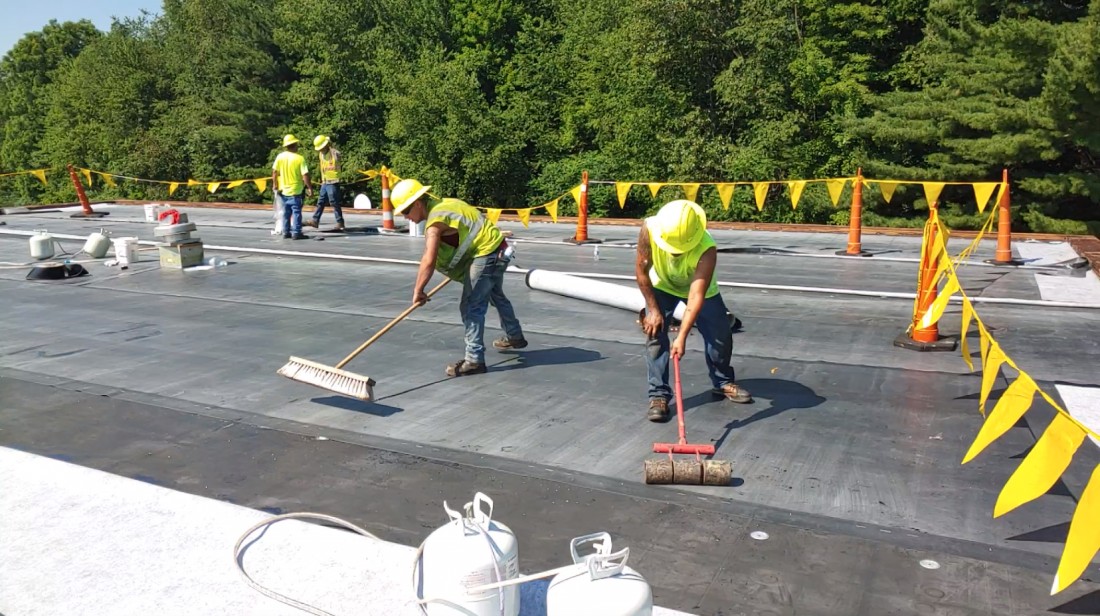 Whether you need EPDM roofing, TPO/PVC roofing, metal roofing, or a flat roof repair including built-up asphalt systems, the Sherriff Goslin Roofing team understands that quality products and minimal disruption to your business are essential. Not only can you expect a fast, efficient installation, you can depend on our roofing contractors to keep your facility dry while also minimizing dust, fumes, debris, and noise. Our team knows that reroofing is a complex subject and that there are many options available. We'll work closely with you throughout the project – from budgeting to design to implementation – to select the best options for your business. While other roofing companies may claim to be reroofing experts, Sherriff Goslin Roofing has over 100 years of history to prove it.
Does Your Commercial Building Feature an Existing Metal Roof?
A metal retrofit EPDM, TPO or PVC roofing system is the perfect re-roofing option for buildings that feature a metal deck.
This system option provides benefits such as:
Preserves the existing metal building while providing long lasting protection
Adds R-value and reflectivity to help reduce energy costs
Offers long-term warranted design.