Commercial Flat Roof Systems
Sherriff Goslin Roofing's commercial roofing division has a wide range of experience with the most popular commercial roofing systems, including PVC roofing, rubber roofing, TPO roofing, and EPDM roofing. Whether you're looking for flat roof repair or replacement, you can be confident that our team has the knowledge, expertise, and equipment necessary to complete the job. To learn more about the commercial roofing systems that we offer, select an item from the options below.
EPDM Roofing and Rubber Roofing Systems
With a 45-year track record of proven performance, EPDM roofing and rubber roofing systems offer low maintenance and superior weathering characteristics. For these reasons, EPDM roofing systems are an ideal option for most northern climates. The traditional black color of an EPDM membrane attracts the sun's solar energy and can help to reduce heating costs during the cold, northern winters. EPDM roofs also work to melt snow that has accumulated on your roof, helping you avoid structural damage. Offering fast, easy installation that requires no special tools or complex equipment, EPDM roofing systems are a great option for Midwestern commercial roofing customers who are looking to reduce costs and avoid unplanned repairs.
TPO Roofing Systems
Thermoplastic polyolefin roofing systems, also called TPO roofing systems, are quickly becoming a major part of the commercial roofing industry. Valued for a number of qualities, including their reflectivity and energy efficiency, they are manufactured in both white and tan variations. TPO roofing membranes are a proven way to reduce a building's energy use and, because of this, are certified by the Cool Roof Rating Council (CRRC) and highly rated by Energy Star®.
TPO roofing membranes can be installed quickly, easily, and efficiently, as they make use of prefabricated accessories that simplify the installation process and reduce the time needed to prep your roof for installation. Available in a range of common lengths and widths, Sherriff Goslin Roofing is the Midwest's leading expert on TPO roofing systems, roof repair, and commercial roofing.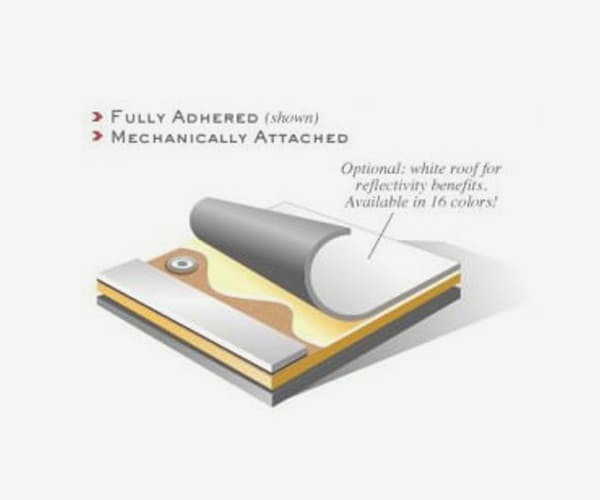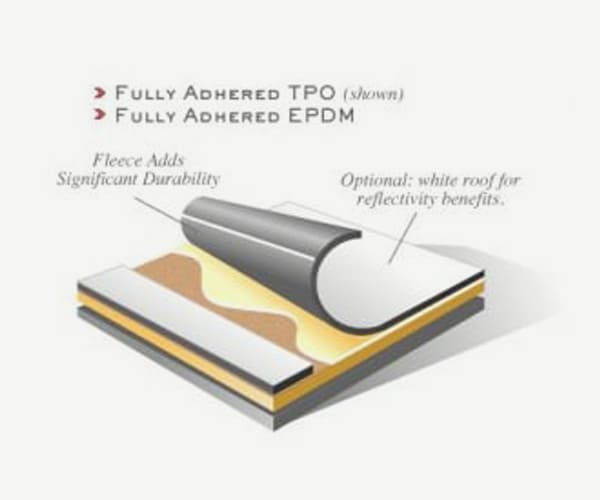 FleeceBACK Roofing System
FleeceBACK® membranes from Carlisle offer superior, long-term protection to ensure that you get the most out of your commercial roof's lifecycle. Offering the benefits of both EPDM roofing and TPO roofing, they are a combination of durable, rugged fleece and Carlisle's time-tested membranes. Able to withstand the harshest environmental and weather conditions, they boast an unparalleled strength and a wind uplift resistance up to 120 miles per hour. For added protection on hot-mopped and cold-applied FleeceBACK systems, Carlisle offers its patented AFX fleece, which provides your commercial roof with additional protection against hot asphalt saturation.
PVC Roofing System
PVC Roofing Systems Polyvinyl chloride roofing systems, called PVC roofing, is a time-tested roof membrane that has proven itself as an energy-efficient and economical commercial roofing solution. An option for reflective roofing, similar to EPDM roofing and TPO roofing, PVC roofing membranes are Energy Star®-rated and CRRC-certified. With the ability to help property owners reduce their cooling costs, PVC roofing provides superior resistance to rooftop chemicals, including greases, oils, and acids.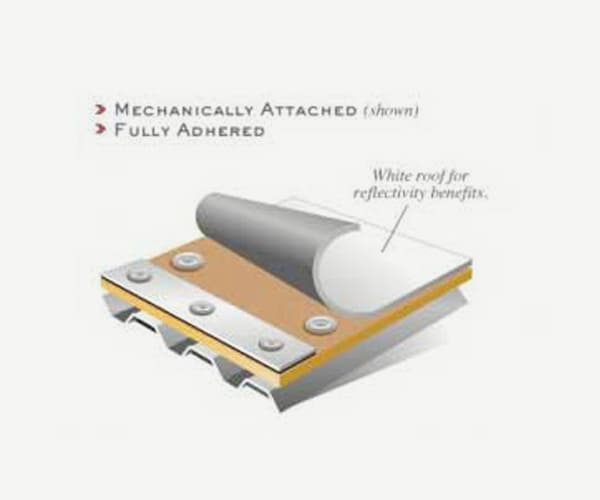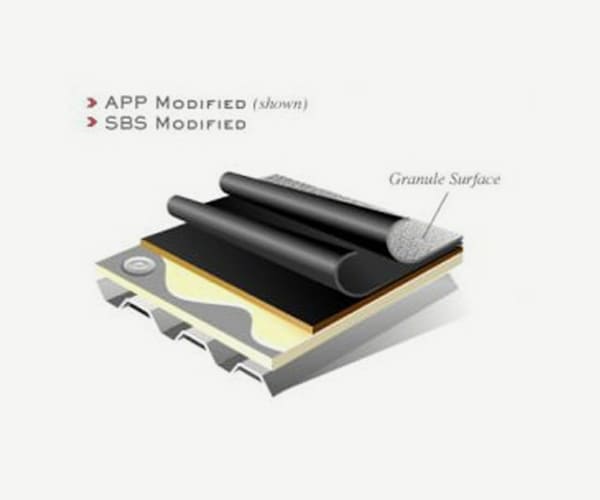 Modified Bitumen Roofing System
Sherriff Goslin Roofing's modified bitumen roofing system is a composite of membranes that consists of bitumen, modifiers, and a reinforcing agent, such as fiberglass or polyester. The roofing system's chosen modifier lends it a tough, rubbery property and added flexibility. As the components of the modified bitumen roofing system are created in a controlled environment, they are manufactured to precise, consistent standards. After manufacturing, they are coated with mineral granules that help to increase the system's resilience. Similar to – but far more flexible than – built-up roofing systems, they are an ideal replacement for any high-traffic commercial roof.
Built-Up Commercial Roofing System
In built-up commercial roofing, the roofing membrane is "built up" by layering asphalt, coal tar saturated felts, or fiberglass mat roofing plies. Comprised of insulation board, base sheet, cold- or hot-applied felts, surfacing materials, and flashing materials, a meticulously-crafted, built-up roofing system offers longevity and durability. Built-up roofing is utilized on both existing buildings and new construction projects, where it is valued for its economy and long-term reliability. Requiring periodic maintenance to ensure that you get the most out of your roof's service life, built-up commercial roofing systems by Sherriff Goslin Roofing can be designed – and installed – to offer a solid combination of general ruggedness and resistance to foot traffic.