Commercial Shingle Roofing Company in Muncie
Since 1906, Sherriff Goslin Roofing has focused on developing methods and products that allow us to offer the absolute best residential roofing contractor services, such as roof repair and roof replacement in the industry. No matter what kind of roof shingle you're looking for, from algae resistant shingles to impact resistant shingles, our experienced team can help you find what you need. Our Art-Loc®, StormMaster Shake®, StormMaster Slate®, and Pinnacle® roofing shingles come standard with Scotchgard™ protector to prevent algae stains. And, our shingles allow us to address a wide range of roofing needs. If your commercial property has a pitched or steep-slope roof, Sherriff Goslin Roofing has you covered.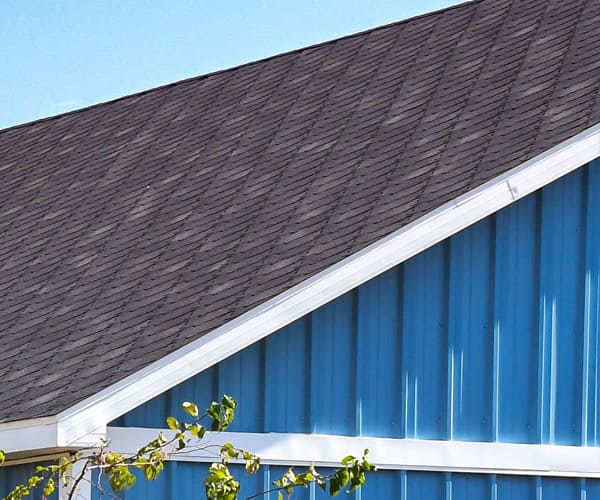 Custom Commercial Roofs for Any Size Building
Sherriff Goslin is one of the few local roofing companies experienced in installing, repairing and replacing large scale commercial shingle roofs. We specialize in custom shingle designs that make your roof, and your business, memorable. If you're looking for a custom shingle roof for your condo, apartment, bank, dental office, free-standing retail location, or architectural structure, Sherriff Goslin has you covered. When it comes to your commercial roof, work with the local commercial roofer that offers a large variety of shingle colors and styles, excellent warranties and guarantees, and options for just about every budget.
Local Commercial Roofer with the Quality Workmanship and the Best Warranties
An innovator in the asphalt shingle industry, Sherriff Goslin Roofing offers a full line of durable, beautiful, top quality commercial shingles including Art-Loc®, StormMaster Shake®, StormMaster Slate®, and Pinnacle®. We have placed much emphasis on quality and customer satisfaction through designing and engineering so we can deliver a shingle that will provide the highest protection, durability and aesthetic appeal.
To further ensure customer satisfaction, our Art-Loc®, StormMaster Shake®, StormMaster Slate®, and Pinnacle® shingles are available exclusively through Sherriff Goslin Roofing Muncie and can be installed only through our trained roof installation professionals. As a full-service roofing contractor, not only do we want to provide a great product with great warranties to our Muncie area roofing customers, but we also know how important it is for installation to be performed safely and properly to ensure maximum effectiveness and longevity of protection to your roof.