Latest News About Residential and Commercial Roofing from Sherriff Goslin Roofing
Choose your view:
Get in the Holiday Spirit: How to Hang Christmas Lights Without Damaging Your Roof
Posted: in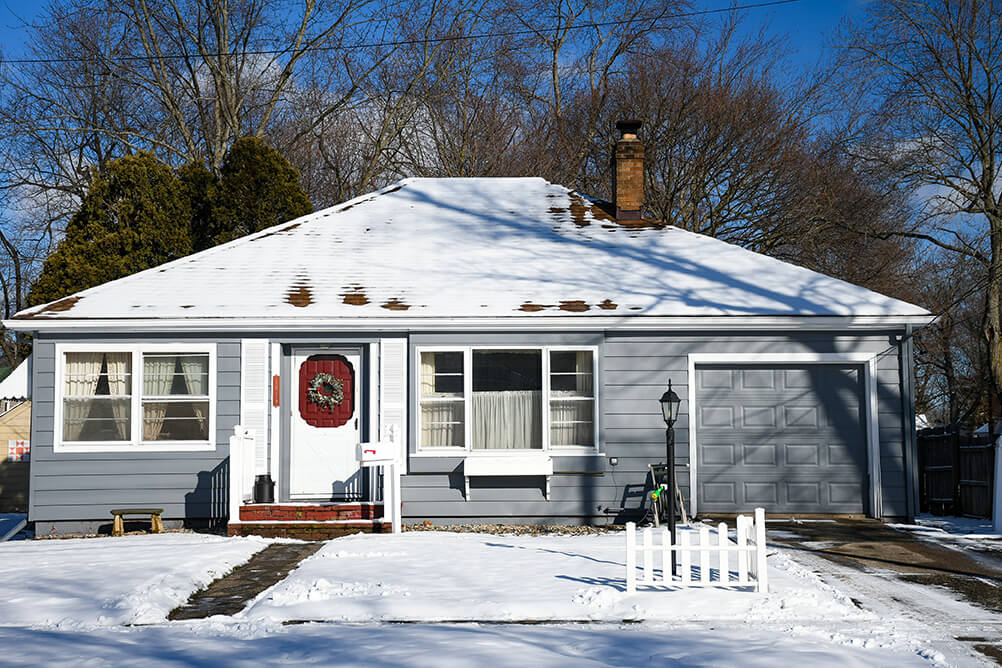 The festive season is upon us and that means it's time to start thinking about how you can make your home merry and bright. One of the ways to do this would be to add Christmas lights to the outside of your home. However, it's important that you don't damage your house in the process, particularly the roof. Let's explore some of the different types of Christmas lights as well as how to hang them the right way.
Christmas Light Options
Christmas lights come in a variety of different styles. You can add everything from fairy lights, icicle lights, lights that change colors, battery operated, large bulb, small bulb, and more to the outside of your home to showcase your holiday spirit. You may even want to consider lanterns for the outside of your home. These create a wonderful ambience and come in all sorts of holiday themes. Don't forget to use energy-saving bulbs too so that you can reduce your electric costs.
The Do's & Don'ts of Christmas Lights
Use Light Clips
We recommend that you use light clips on or around your roofing instead of screws, a staple gun, or even nails. This will help you avoid a roof repair or accidentally damaging your roof shingles. Light clips are typically plastic (though some are metal) and can be added to the brick or gutters of your home without causing damage.
Be sure to double-check the weight limit on the packaging before installing—the last thing you want to come home to is an array of Christmas lights improperly dangling from your roof.
Don't Walk on Your Roof
You should always avoid walking on your roof when adding Christmas lights. Not only is this a giant safety hazard, but you can quickly damage the lifespan of your roof while excessively walking across it. With snow and ice piled on top, the added body weight could possibly send you falling through the roof if it hasn't been inspected recently.
Instead, use a ladder to put up your lights and ask a friend, family member, or neighbor to supervise to avoid potentially falling. We understand that in order to put up everything you hoped for during the holidays, you may need to walk on the roof—but do so CAREFULLY. We recommend not stepping too hard and wearing light closed-toe shoes that offer a mild degree of grip. As always, ask someone for help and guidance so as not to go at it alone.
Do Use the Gutters
One of the best ways to avoid damage to your roof would be using the gutters to string your holiday lights. In doing so, you don't have to worry about causing any damage to your roof shingles. Additionally, the gutters are far more accessible compared to other parts of your roofing structure so you'll be able to get things done quicker and easier.
Hanging lights from your gutters can be a quick fix to avoid roof damage, but it does come with some cautions. Based on the lights you've chosen for your outdoor decor, you'll want to check the weight is bearable for the gutters. Putting too much weight on the gutters can send them crashing down, causing more damage than you intended. Additionally, be sure not to hang on the gutters for support while atop the ladder—it won't work out in your favor, we can guarantee that.
Don't Take on More Than You Can Handle
If you have any doubt about your ability to add Christmas lights to your home without damaging the roof or endangering yourself, consider using a professional service. That way, you can make sure your house looks incredible without the stress, hard work, or potential financial burden down the road.
Fix an Accidental Problem with Sherriff Goslin
Accidents can happen even when you take preventative care adding Christmas lights to your roof. At Sherriff Goslin, we have seen it all—accident or not. Our professionals provide the best roofing installation service in the Metro Detroit area, and have experience fixing both large and small problems. Don't let the Christmas lights be the reason your roof suffers. Instead, call in the professionals at Sherriff Goslin and have us inspect, repair, and replace your roof at a price you can afford.
Contact us now for a free quote on any roof repair or replacement you need.