Green Roofing
One of the most commonly asked questions about our commercial roofing is, "Is my roof green?" The simple answer is… if you're asking the question, the answer is probably, "No." Whether your roof is green or not depends largely on how you define the word, "green." As it pertains to commercial roofing, there are a wide range of industry terms, acronyms, organizations, products and certifications that should be considered, all of which have merit and some of which will be mentioned below. In the end, however, your green philosophy should combine some measure of energy efficiency, lifespan, or sustainability of the roofing system, and should weigh the overall impact of the system and its components on the environment.
The Qualities of a "Green Roof"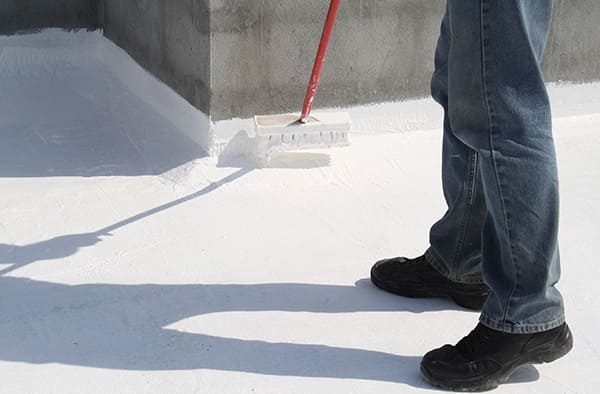 Energy Efficiency: The R-Value of your roofing system is a measure of its thermal resistance. Certain insulations and coatings can increase your roof's R-Value, resulting in increased cost-efficiency when heating or cooling your building. Additionally, numerous tax deductions are available to buildings that meet ASHRAE Standard 90.1-2007.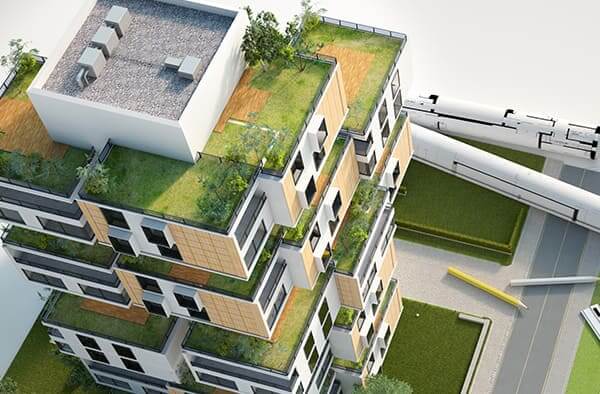 Sustainability: Buildings seeking LEED certification must have all aspects of their architectural systems, products, and maintenance evaluated to yield "LEED credits" which are applied toward certification. Incorporating the LEED standard into your structure can help to prolong its life. As all builders know, maintaining a roof is paramount to the health of your structure, its occupants, and the surrounding area.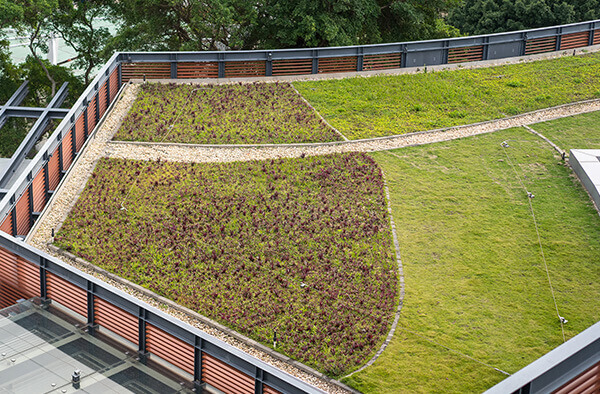 Environmental Impact: The phrase "environmentally friendly" has saturated the marketplace, especially in the commercial roofing and construction industries. To ensure a truly environmentally friendly building, you should utilize products that are specifically designed to decrease negative impacts on the environment, such as cool roof materials, membranes, and vegetative roofs.
The most important thing to remember when selecting a roofing system is to choose the system that best suits your application: high traffic, high-rise, high wind, and so forth. Sherriff Goslin Roofing's commercial roofing division prides itself on its ability to guide customers toward making informed decisions that will have a positive impact on their building's roof. We firmly believe that installing affordable, durable roofing systems and living up to the varied definitions of "green" can be achieved.
Vegetative Roofing System
A vegetative roofing system, or "live roof," consists of a top layer of live vegetation, such as plants, trees, or shrubs, over a waterproof membrane and other critical components. Vegetative roof systems can be found at any level of a structure where vegetation is desired above an inhabited space, however, it is essential that you choose the right contractor – a Live Certified Contractor – to install your living roof.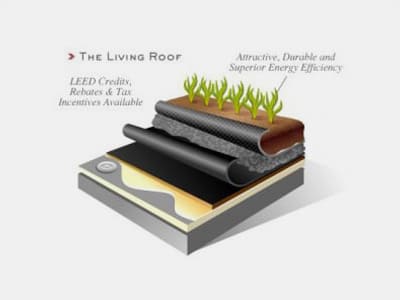 While the initial cost of installing a vegetative roof is higher than traditional roofing systems, there is a range of aesthetic, energy efficiency, and cost-of-ownership benefits. Achieving sustainable R-Values that are not normally seen in other systems, the increased insulation can significantly reduce heating and cooling costs, offsetting the initial cost of the roof. In urban areas, living roofs help remove pollutants from stormwater, reduce the "heat island" effect, reduce noise, and improve air quality, all of which can yield rebates and tax incentives for building owners.
If your project has LEED requirements or you're interested in having your building LEED certified, a vegetative roof is the roofing system that you'll want to pursue.